About Us
The architectural beauty and heritage of Kings Arcade is matched by an eclectic array of products, services and personalities covering fashion, food and beauty, health and well, personal development and promotion and much more.
The Arcade's third-generation proprietors have carefully selected each provider on the criteria they are simply the best at what they doin bringing you a memorable shopping and service experiencein one of Melbourne's premier iconic, boutique arcade environments - fit for Kings and Queens and perfectly placed between rail and tram in the heart of High Street.
Kings Arcade comprises of thirteen shops on the ground floor and some seventeen office suites on level 1 of the building.
The Arcade is classified by the National Trust as a heritage building of historical significance.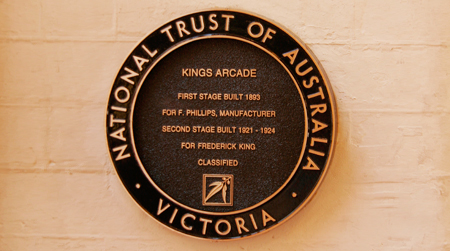 Kings Arcade, putting heart back into your shopping experience.